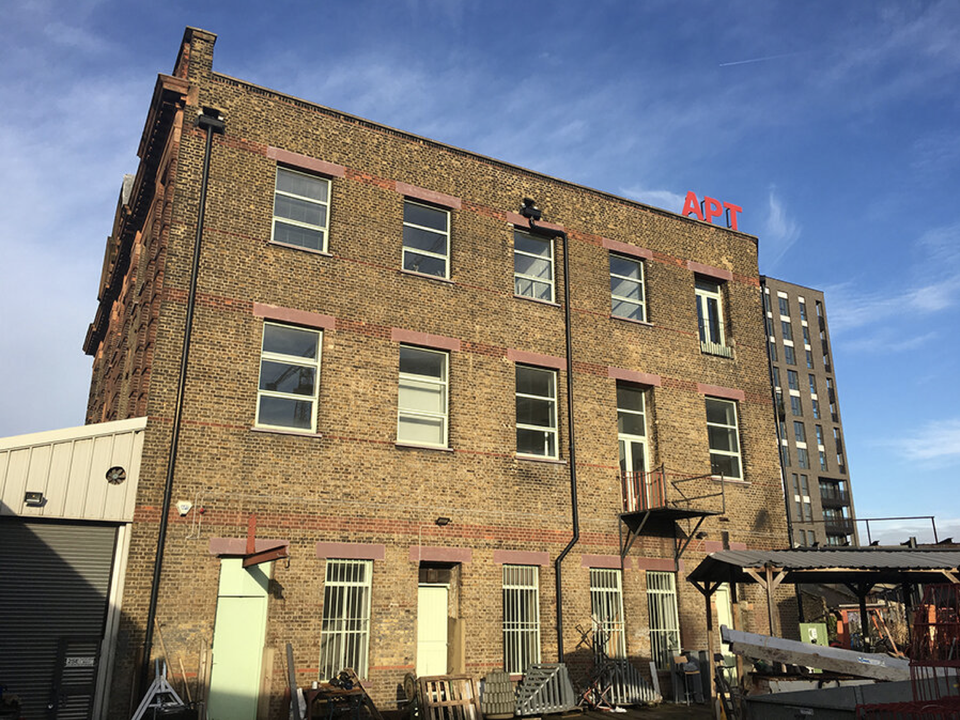 We are happy to say that we have a studio available – G5, on the ground floor in the main yard. It is large, with high ceilings and a tall wide door equipped with a steel gantry direct onto the yard. There is a steel mezzanine built into the rear of the space and a large west-facing window at the front. It has a concrete floor and would be appropriate for an artist whose practice is 3D/ construction based, but that need not exclude additional media i.e. installation or lens-based work.
When an artist takes a studio at APT they become part of the creative community and a member of the charitable trust founded by some of our members in 1995. Its mission is to support creative thought and artistic vision both in the studio and in the wider world. Artist-members are expected to help run the organisation and to share their expertise and knowledge for the benefit of the community. As a means of keeping studio rent space affordable artist members are expected to offer a minimum of 14 hours of work in kind per annum - it might mean being part of one of the committees overseeing gallery programming or buildings issues or the regular refurb of the gallery – but this helps keep things cohesive and allows members a chance to have their say in the future of APT.
To Apply
Memberships are decided by the Vetting Committee and based on a 'best-fit' principle of appropriateness to the space and to APT as a whole. To apply, please download application forms and read the supporting documents. To avoid any bias, the Vetting Committee look at all applications on an anonymous basis so you are asked to complete the Artists Form with your full details (for office use) and the Application Form with details of your practice only (for the committee). The supporting documents give details of the studio specification, rent and description of the space.
The Application Form and the Artists Form need to be completed and returned to APT's office by 5pm on Monday 17th August. Interviews will take place 27/28th August 2020.
If you want to discuss any elements over the phone, or require the documents in another format, then you can contact Sarah Walsh on 0208 694 8344/ aptlondon@btconnect.com
Studio Viewing Days are scheduled for 3rd and 4th August, 10:00 – 7:00pm, please contact aptlondon@btconnect.com to arrange a viewing, this will be strictly by appointment only.
Location

6, Creekside, Deptford

LONDON, SE8 4SA
Floors/access:

Ground floor

Wifi:

Excluded